Download Rugby World Cup Review 2007 PDF
The dust has settled on RWC 2007 with South Africa worthy champions. As a New Zealander I'm obviously disappointed that the All Blacks lost in the quarter finals, I just wasn't too surprised. When the draw was made in 2005 it was clear that the All Blacks would reach the last eight without a competitive match and be up against the tough match hardened runner up from the "Group of Death", losing under these circumstances was always possible. And so it came to pass that this unlevel playing field proved too steep a climb for the world's best team.
Many may have celebrated the All Blacks' demise, and also that of Australia, but is it really good for the World Cup that these two great rugby nations had so few competitive games? The All Blacks in five games played only France who was ranked in top 8 at start of RWC. Australia played 8th placed Wales before losing their QF to England. Shouldn't the World Cup provide a banquet of matches between the top sides? Instead after a mostly uninteresting appetizer this World Cup went straight to its dessert, where was the main course? I felt like a disappointed diner who paid for an expensive meal that leaves him still hungry. Imagine what those thousands of All Black and Wallaby fans who spent their hard earned savings on a trip to France must have felt!
The RWC just isn't as good as it should be, there are not enough games between top sides, and too many non competitive games between top sides and next tier teams. The format must be changed for 2011! How long can you keep charging fans high prices to turn up to games or turn on their TV's when at the end of it all they are not satisfied?
Not all rugby stakeholders share this view however. The IRB's press release called the 2007 tournament "The most successful in the Tournament's 20-year history. Attracting record attendances, broadcast coverage and generating a festival atmosphere, the Tournament also proved to be incredibly competitive". I have no doubt that revenue and attendances were higher than in previous cups, I don't believe though that they were maximised, but to say that the tournament was "incredibly competitive" is at best a great exaggeration, at worst a downright lie! Let's look at the facts.


Competitive matches
The IRB in its explanation of the world rankings calculation states "it is significant whether sides win relatively comfortably - with something to spare" A relatively comfortable win according to the IRB is one with a margin of victory of 16 points or more. By extension we can consider a match with a margin of up to 15 points to be a competitive game, while one with a margin of 16 or over would be considered non competitive. Of course there will be exceptions to this general rule.
During the pool phase of the 2007 tournament 40 matches were played. Of these 40 matches only 15, or 38%, resulted in full time margins of up to 15 points. From a statistical point of view it's hard to classify a return of 38% competitive matches as being "incredibly competitive" Fans watching in the stands and on TV know very well what they saw!
RWC - Number of Competitive Pool Games

1987

1991

1995

1999

2003

2007

Grand Total

Total Pool Matches

24

24

24

30

40

40

182

Competitive Games

8

11

8

8

10

15

60

Competitive %

33%

46%

33%

27%

25%

38%

33%

Top 12 Vs Next tier
The composition of the World's top 12 sides as per the IRB rankings has not changed since the rankings started in 2003. These top 12 are Argentina, Australia, England, Fiji, France, Ireland, Italy, New Zealand, South Africa, Samoa, Scotland, and Wales. It is very rare for a team outside this group
to beat one of the "established order" Despite this rareness the current RWC format sees a majority of games played between top 12 and next tier. The results are obviously predictable.
During RWC 2007 24 of 40 pool games were played between top 12 sides and next tier sides. Only one, that between 15th ranked Tonga and 11th ranked Samoa, resulted in a next tier win. Of 100 RWC games from 1987 to 2007 just four times has a next tier team upset a team in the top 12! How long will fans continue to turn up for these mismatches?


RWC - Top 12 Vs Next Tier games

1987

1991

1995

1999

2003

2007

Grand Total

Number of games

12

11

11

18

24

24

100

Top 12 wins

12

9

11

17

24

23

96

Next Tier Wins

0

2

0

1

0

1

4

Next Tier Wins %

0%

18%

0%

6%

0%

4%

4%

A popular result tipping competition in New Zealand had to be completely revamped from its Super 12 and NPC format for the 2007 World Cup. It was no use asking fans to just predict winners of games, any mildly interested observer knew who would win most of them!


Little Rest for Developing Nations
In the IRB's strategic plan of 2004, the most recent available on website, it states one of the goals of the RWC tournament as being to "deliver a highly competitive and sporting World Cup". We have seen already that the 2007 cup, as well as its predecessors, was a long way from being "highly competitive" Lets now look at how sporting a tournament 2007 was.
Rugby is a contact sport and its demands physically are immense. After 80 minutes players are exhausted mentally and physically. In order to perform at peak level it is essential that players get a chance to recover fully between games. At RWC due to scheduling requirements and the need to complete pool games over a fixed period of time this will always be difficult.
At RWC 2007 the schedule was organized to ensure that the games biggest eight teams (Home nations, France, and Tri Nations countries) would not be required to play again without at least four full rest days between games. The remaining 12 teams all had to play after only three days rest. So the countries generally considered to be better prepared physically were given a leg up over the developing nations. How sporting is that?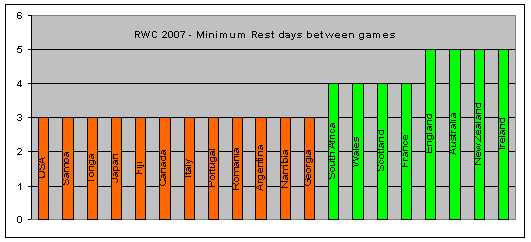 Established nation Scotland even considered its rest periods of four and five days before games against New Zealand and Italy to be insufficient and elected to rest its top 15 players for the game against the All Blacks to ensure they were fit for the vital decider Vs Italy. Deliberately "throwing" games is not exactly what one would consider sporting behavior! It's not Scotland's fault, the pressure on them to reach the quarters was huge, and the draw was against them.


Uneven Pools Create Steep Climbs to Quarter Finals
For the RWC to be considered a sporting tournament it must present a level playing field for all teams. This means that the tournament structure and draw must take into account the current strengths of teams competing at the cup and ensure an even distribution throughout the pools. This was not done in 2007 with pool groupings being decided a full two years before 2007 kickoff and based on performance at 2003 cup. As a result 2007 had the "Pool of Death" with three of the top six ranked sides (Ireland, France, and Argentina) together, and New Zealand's closest rival in pool C being 9th ranked Italy. In 2007 the teams from the toughest pools won the four quarter finals.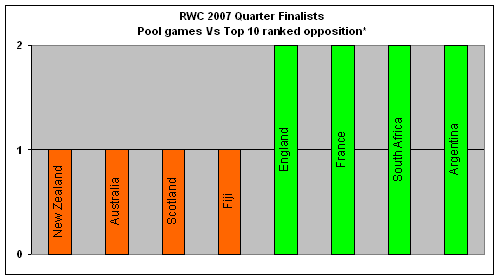 * Based on IRB rankings as at 30 July 2007 – after Tri Nations and Pacific Nations.
Soccer's governing body FIFA sees no need to make the draw for its World Cup pools until all qualifying is completed. That draw is normally six months before its World cup kickoff so that current playing strength of qualifiers can be taken into account.
By making the draw a two years before kickoff RWC not only ensures that playing strength is unevenly distributed but opens up the very real possibility of teams still involved in qualifying throwing games to get into more "favorable" groups. Samoa must have wished they had "lost" to Fiji in qualifying and played in pool B with Wales and Australia, instead they won the match and a Pool A "Mission Impossible" date with England and South Africa!


Conclusion
Current World Cup structure is neither competitive nor sporting. There are too many non competitive and predictable games between top sides and next tier sides, and too few games between top sides.
By reducing the number of teams at the finals to 16 an extra quarter final round can be included with the top 2 in each pool playing both of the top 2 from another pool. This will create two QF pools of 4 teams with the result from first pool match being carried forward to QF pool. Top 2 sides from each QF pool play in semi finals. This structure will see one more game Vs top side, and one less Vs next tier. Playing field will also be level as an even number of teams in each pool means even rest periods and any major difference in pool competitiveness is compensated by two QF pool games. I believe something similar has been proposed by NZ 2011 CEO Martin Snedden.
Rugby fans around the world know what they saw in 2007 and don't want any more of that unappetizing fare. They want meaningful competitive games, they want to see the top sides in action against each other. The RWC must be the pinnacle of rugby achievement and organization, right now the RWC is not nearly as good as it should be.
"In seeing clearly begins real responsibility"
Ben Okri (winner of 1991 Booker prize)

Footnote: Sadly the IRB has chosen to ignore the facts and it will be another tasteless and cold 20 team cup in 2011.