Like a great many Kiwis at home and abroad I'm getting pretty excited as this years Rugby World Cup gets closer. I've been living in Argentina for the last 8 years and as well as my deep pride and passion for the All Blacks I have developed a strong respect of and support for the Argentine Pumas. I'm looking forward to watching both teams in action.
Sadly my excitement has been somewhat tempered as I look at the draw and see the All Black's in an "easy" group with Italy, Scotland, Romania, and Portugal and the Pumas in the "Group of Death" with France, Ireland, Namibia, and Georgia. Let's take a closer look at these two pools:
In the All Blacks pool Scotland coach Frank Hadden has already said he will rest key players against the All Blacks in order to be fresh for the "must win" game against Italy 6 days later, no doubt Italy will do the same. The end result is the All Blacks will qualify first without a hand being laid on them and without working up a sweat. Playing Scotland B, Italy B, Romania, and Portugal is hardly ideal preparation for a tough quarter final; in fact it's hardly preparation at all!
As for the Pumas, with a current world ranking of 6, they must beat either world number 3 France, or number 5 Ireland just to make it to the quarter finals! How can it be that three of the World's top six sides are together in one pool? Is this just bad luck of the draw? I have no doubt that if such "luck" had landed the other three of the current top six together that something would have been done. Can you imagine New Zealand, South Africa, and Australia in one qualifying pool? I think not!
So my beloved All Blacks will reach the last 8 without a sweat or a scratch, and my adopted Pumas will have to fight tooth and nail just to make it. The reward for this great and that little effort is quite probably a quarter final against each other!
So I wonder, is this the World Cup that rugby players and supporters deserve? Is this the best way to showcase the game on the world stage? Is this world cup going to provide a banquet of high quality competitive rugby? Unfortunately I think the answer is no and I'm convinced that Rugby could and should do much better with its World Cup.
Rugby World's facts of Life
1. The composition of the World's Top 12 sides as per the IRB rankings has not changed since the rankings started in 2003. These teams are Argentina, Australia, England, Fiji, France, Ireland, Italy, New Zealand, South Africa, Samoa, Scotland, and Wales.
2. In 5 World Cup's to date and 142 pool matches these Top 12 sides have played 76 matches against teams in the Next Tier. 63 (83%) of these games have resulted in Top 12 winning margins of more than 17 points. Of the other 13 games (17%) only 3 (4%) have been wins for Next Tier teams. The last time a Next Tier team beat a Top 12 team was in RWC 1999 when Tonga beat Italy.A 4% success rate for Next Tier teams is not great and not something to get excited about as World Cup 2007 gets closer with 24 more games between Top 12 and Next Tier teams.
3. Of the remaining pool matches so far 52 have been played between Top 12 sides – 60% resulted in points differences of less than 17, and 14 between Next Tier sides – 50% with final points difference of less than 17 points. It's clear that playing Top 12 against each other and Next Tier also against each other doesn't guarantee competitive games but it is certainly much more likely than playing Top 12 Vs Next Tier.
Statistical Summary – 1987 to 2003 World Cup's
Num of games by classification

Game Between

Result Classification

1987

1991

1995

1999

2003

Grand Total

Top 12 Vs Top 12

competitive

5

7

7

5

7

31

non competitive

4

4

4

4

5

21

Total

9

11

11

9

12

52

Top 12 Vs Next Tier

competitive

1

4

2

3

3

13

non competitive

11

7

9

15

21

63

Total

12

11

11

18

24

76

Next Tier Vs Next Tier

competitive

2

1

2

2

7

non competitive

1

1

2

1

2

7

Total

3

2

2

3

4

14

Grand Total

24

24

24

30

40

142

Competitive %

33%

50%

38%

33%

30%

36%

NB. Competitive = margin of 16 or less. Non Competitive =- margin of 17+.
World Cup summary - 142 pool matches.
37% (52) of matches between Top 12 teams.
54% (76) of matches between Top 12 and Next Tier.
10% (14) of matches between Next Tier teams.
36% Competitive matches. 51/142
64% Non Competitive. 91/142
2003 World Cup summary – 40 pool matches.
30% (12) of matches between Top 12 teams
60% (24) of matches between Top 12 and Next Tier.
10% (4) of matches between Next Tier teams.
30% Competitive matches 12/40
70% Non Competitive matches 28/40
FIFA 2006 Soccer World Cup – 48 pool matches
85% Competitive matches 41/48
15% Non Competitive matches 7/48
Competitive = fulltime goal difference of 2 or less. Non Competitive = goal difference of more than 3
The IRB clearly states its goal for the World Cup as being "To deliver a highly competitive and sporting RWC" I don't think a tournament where less than 50% of matches are competitive could be defined as "highly competitive".
Like many rugby supporters and administrators around the world I'm hoping to see lots of competitive games in 2007, I just don't expect it will happen. It's clear that the format of the Rugby World Cup must be changed because currently it doesn't provide enough competitive rugby. Non Competitive games are not the best way to showcase the game and won't keep TV audiences glued to their sets.
Super Pools will make the RWC more competitive.
Sounds like a massive project to overhaul the World Cup but actually it may not be that difficult. I feel that a small change to the World Cup format would provide a huge boost to the tournament.
This would be achieved by splitting the 20 qualifiers into top 10 and next 10 teams based on current world rankings and geographical split. The top 10 are split into 2 Super Pools of 5 teams each. Same system for next 10 teams. This would give these exciting pools:
Super Pool A. New Zealand, Australia, Ireland, Wales, Samoa
Super Pool B. France, England, South Africa, Argentina, Italy
Meads Cup Pool A. Scotland, Romania, Japan, Georgia, USA.
Meads Cup Pool B. Canada, Tonga, Fiji, Namibia, Portugal
Each team would play the 4 others in its pool with top 2 in each pool qualifying for semi finals. (Quarter finals would be eliminated) Top 10 teams play for World Cup. Next 10 play for "Colin Meads Cup" or similar. All teams get 4 games against similar level opposition. Finalists play 6 games. There would be 20 pool games between Top 10 teams, and 20 between next 10. Qualifying would also get a boost as established nations want to ensure they make the Top 10 cut.
Super Pools would provide:
More matches between Top sides
More competitive matches. (I estimate around 70% Vs 30% in 2003)
Better way to decide World Champion as luck of pool draw is reduced to almost nil.
Meaningful goal and competition for next tier teams – not just target practice.
Reduction in points difference
Super Pool World Cup summary – 40 pool matches.
50% (20) of matches between Top 10 teams
50% (20) of matches between Next Tier (Next 10) teams.
70% Competitive matches 28/40 - estimate
30% Non Competitive matches 12/40 – estimate
I'm convinced that the Super Pool concept would make for a very competitive tournament that would be great for players, supporters, and administrators of all participating countries. Im also certain that this format would stoke the coal in the fire of the IRB's financial engine and provide increased revenues for world-wide game development.
At the end of the 2007 tournament there will be considerably more valuable information available for analysis. It is absolutely vital that this detailed analysis is done before any decision is made on the format for the 2011 cup in New Zealand.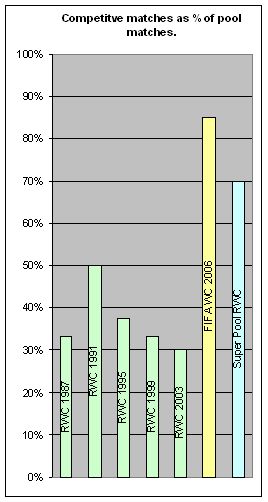 With three weeks to go I'm getting pretty excited about the World Cup, mainly though I'm excited about watching my teams in action. I'm worried about the tournament and getting more so as the warm up results come in with Coventry beating Portugal, and French division two sides beating Georgia.

The Rugby World Cup has the potential to be a magnificent and truly competitive sporting event, one small change would be a big step on the way!

"In seeing clearly begins real responsibility"
Ben Okri (winner of 1991 Booker prize)

Footnote: Sadly the IRB has chosen to ignore the facts and it will be another tasteless and cold 20 team cup in 2011.