Download AFA Uneven Fields of Dreams PDF
In Argentina "Futbol" is adored, watched and followed by millions. It could provide a great stage on which to promote sports greatest values and see these reflected back by society. Instead its lack of transparency, democracy, and accountability are there for all to see (If you can be bothered to look deep enough!) These uneven playing fields lead directly to on and off field violence, fan and player frustration, and are certainly no role model for this developing society. In this analysis I look at the first division tournament structure and its confusing and corrupt format.


Opening and Closing Confusion
The Argentine first division is made up of 20 teams. Two tournaments are played each year with each team playing the other 19 once in each tournament. These "one round" tournaments were introduced in 1991. Despite being in the Southern hemisphere the season structure is the same as Europe with a full season being played from Aug one year to Jul the following, i.e. seasons are 2005/2006 and 2006/2007, not calendar year 2006, 2007.
The two tournaments that span a "full season" are called opening (Apertura) and closing (Clausura) The opening tournament takes place in the 2nd half of each year, and the closing in the 1st half of each year! It's very confusing to start the new season in Feb with the closing tournament! Adding to confusion are print and TV media who rarely use tournament full name as "Apertura 2006/2007", they just call it "Apertura 2006".
I believe that less than 50% of football fans would know which tournament was being played at any time! In Argentina bureaucracy makes life difficult and frustrating everyday, football provides no respite.
Tournament name Played Real Description
2007 Opening Tournament Played Aug to Dec 2007 2007/2008 Season 1/2
2008 Closing tournament Played Feb to Jun 2008 2007/2008 Season 2/2
We are not the Champions!
There is no overall Argentine season champion. Each season there are two champions and no playoff to decide the season's best team. Ask who won and you will get two answers. It defies belief that in one of the world's great football nations there is no annual or seasonal champion, unless of course one team is good enough to win both opening and closing as Boca Juniors did in 2005/2006.
Who's coaching who?
Boca Juniors are one of Argentina's most recognised and successful teams, they are the current South American champions (Libertadores Cup winners) and are shortly off to Japan to play in the World Club Championship. It's a proud achievement for any opposition team and coach who can beat them. In the 2nd round of the current 2007 closing championship Ricardo Lombardi's Argentinos Juniors team scored a magnificent 3-2 win over Boca. Unbelievably less than two months later Lombardi recorded another win over Boca, this time a 1-0 win as coach of Newell's Old Boys! This incredible event shows the fickle nature and incredible rotation rate of coaches in Argentine football. After Argentinos Juniors win over the continental champions one would have thought the coach and club management would have been happy for a long while. Instead a couple of poor results in subsequent weeks had coach and management looking elsewhere.
In week 17 of the current tournament 9 of 20 coaches who started the season have either been sacked or resigned. In the two previous tournaments a total of 40 coaches were in charge of the 20 teams, a rotation of 100%!
The short one round tournaments leave little margin for error and fans and club management have no patience in their desperate search for success, a couple of early losses mean a team is out of the championship race and coaches are often sacked for not getting the results. There is little possibility to build for the long term. Player rotation is at similar levels.
Tainted Relegation System Leads to Anger and Blood Letting
By far the worst of the Argentine Premier League is the deeply corrupt and unfair system of relegation. This unlevel playing field is very difficult to understand and leads directly to violence and frustration for players and fans.
At the end of each full season in June (two short tournaments) promotion and relegation takes place. Two teams are automatically relegated and replaced by the two leading sides from the B division. A further two Premier league sides meet the next two B division sides in home and away playoffs to decide who comes up, who goes up, who stays up, and who stays down.
These type of playoff games will always be emotionally charged with teams trying to save their places competing directly against up and comers. Because of this charge most European leagues have automatic relegation.
To decide which teams get automatically relegated and which must go to playoffs the premier league has implemented a system of averages. Each team's average (Promedio) is calculated by dividing the number of championship points obtained by the number of matches played. Teams averages are calculated using the points obtained and matches played over the preceding three years (six short tournaments), for those tournaments when the team was in the first division. This means that teams that have recently been promoted will have played less matches (one or two full seasons) but will be compared to teams who have been there for three full seasons! It is often not enough for teams to finish outside the bottom four to avoid relegation or playoffs.
Looking at the points table for the full 2006/2007 season (page 3) it looks like the two teams in the automatic relegation zone were Quilmes, and Newell's Old Boys, with Gimnasia La Plata, and Banfield the two above them in the playoff spots. But when we take a look at the relegation averages table we see that Newell's Old Boys, Gimnasia La Plata, and Banfield have all escaped the relegation zone based on their performances in the 2004/2005 and 2005/2006 seasons. Amazing but true! Nueva Chicago (14th in 2006/2007), Godoy Cruz (15th), and Belgrano de Cordoba (16th) have been dropped right in it with Belgrano automatically relegated despite finishing above four other teams over the one season they were in the first division!
As you can imagine players and fans in Cordoba were left crying and wondering what more they could have done. To make things worse it wasn't possible to tell how many points they needed at the beginning of season to stay up! It is corrupt and criminally unfair to judge teams on their performance when they weren't even there!
Now for the playoffs. First off all it was 15th placed Godoy Cruz from Mendoza up against Huracan, Godoy Cruz lost over the two legs and was relegated. Fans of Godoy Cruz got violent and let off their frustration by fighting and smashing anything they could get their hands on. It's easy to understand their frustration without condoning their violent actions.
The worst was still to come when 14th placed Nueva Chicago met Tigre. Tigre were fighting to return to the first division after a 27 year absence, Nueva Chicago to stay up after just 12 months. The first game at Tigre resulted in a 1-0 win to the home side. In the second game Tigre were up 2-1 when violence came with the game was abandoned in the 49th minute of the 2nd half. The Nueva Chicago hooligans invaded the field, and violently accosted their own team's players stealing their playing gear and boots. They fought with police and opposing fans and caused huge damage inside and outside the stadium. A tragedy was consecrated when Marcelo Cejas, a 41 year old father and Tigre fan who attended the game with two of his sons, was killed by a Nueva Chicago thug who smashed a rock onto his head as he lay prone on the ground. What a terrible tragedy. The biggest tragedy is that Cejas won't be the last victim, his death likely to be in vain. The death toll in Argentine football stands at 223.
AFA 2006/2007 Full season

AFA 2006/2007 Relegation Averages

Rk

Full season

pts

Relegation Averages

MMT*

04/05

05/06

06/07

pts

Ga

Ave

1

Boca Juniors

83

Boca Juniors

0

51

83

83

217

114

1.904

2

Estudiantes La Plata

81

Estudiantes La Plata

0

61

52

81

194

114

1.702

3

River Plate

71

River Plate

0

60

62

71

193

114

1.693

4

San Lorenzo

70

Velez Sarsfield

+4

73

58

56

187

114

1.640

5

Arsenal de Sarandí

62

San Lorenzo

-1

52

56

70

178

114

1.561

6

Lanus

59

Lanus

0

54

58

59

171

114

1.500

7

Independiente

57

Gimnasia La Plata

+10

54

69

40

163

114

1.430

8

Velez Sarsfield

56

Independiente

-1

49

55

57

161

114

1.412

9

Rosario Central

52

Arsenal de Sarandí

-4

54

44

62

160

114

1.404

10

Racing Club

49

Rosario Central

-1

61

45

52

158

114

1.386

11

Argentinos Juniors

46

Banfield

+7

59

59

39

157

114

1.377

12

Colón de Santa Fe

46

Racing Club

-2

58

44

49

151

114

1.325

13

Gimnasia de Jujuy

43

Newell's Old Boys

+6

60

51

38

149

114

1.307

14

Nueva Chicago

43

Colón de Santa Fe

-2

53

46

46

145

114

1.272

15

Godoy Cruz

42

Gimnasia de Jujuy

-2

51

43

94

76

1.237

16

Belgrano de Córdoba

41

Argentinos Juniors

-5

43

50

46

139

114

1.219

17

Gimnasia La Plata

40

Nueva Chicago

-3

43

43

38

1.132

18

Banfield

39

Godoy Cruz

-3

42

42

38

1.105

19

Newell's Old Boys

38

Belgrano de Córdoba

-3

41

41

38

1.079

20

Quilmes

21

Quilmes

0

44

39

21

104

114

0.912
* MMT shows the movement in places from the full season table to relegation table. i.e. Gimnasia La Plata finished 17th on full season but got lifted up 10 places to 7th and escaped relegation zone on previous performance.
There is never an excuse for violence, but given that it is sadly ever present in Argentine football why does the Argentine Football association (AFA) continue to give fans another reason to feel angry and frustrated? The tainted relegation system claimed another victim in 2007, how many more will it take to implement a fair system? All the AFA have to do is abandon the system of averages and make teams accountable for their 12 month performance like in any other country.
Sadly I don't believe change is imminent. The reason why the AFA implemented this system is because some years back one of the most popular teams had a poor season and was relegated. Apparently it wasn't good business for the AFA to have this team in the 2nd division so the averages were implemented to avoid a repeat. It's unlikely that a "popular" team will have three poor seasons in a row, at least until it happens when I suppose when the system will be changed again!
Strange events and mindless violence have occurred as a result of the averages system. Teams are relegated when they shouldn't be, and undeserving teams stay up, its all back to front. Some of the strangest cases from the relegation twilight zone have been:
Talleres of Cordoba being saved from relegation after finishing dead last in the 2001/2002 season
Talleres of Cordoba being related after losing playoff after they came 3rd in the 2003/2004 closing championship, and 6th in the full season! The fans weren't too happy either!
Lanus finishing 8th overall in 2001/2002 but having to survive a playoff to stay up.
Independiente finishing last in the 2001/2002 closing tournament but avoiding both automatic relegation and a playoff by virtue of past performance. It then went on to win the following 2002/2003 opening tournament and guaranteed its survival for the next three years. In the closing tournament they went back to their losing ways and finished 17th!
Argentinos Juniors (12th), and Olimpo (13th) both had to survive playoffs in 2005/2006 when 17th placed Arsenal and 18th placed Quilmes were saved.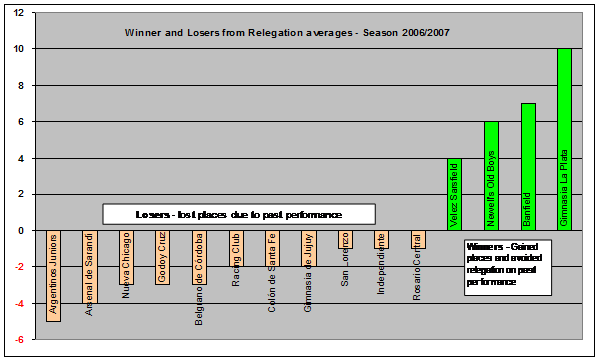 Losers - lost places due to past performance
Winners - Gained places and avoided relegation on past performance
(See attached appendix for a full history of the six seasons from 2001 to 2007)
Conclusion
It's hard to know whether football reflects society or if it's the other way round, when both are in the state they are maybe it doesn't matter. However after living here for the last eight years I am convinced that football has a part to play in the transformation of Argentina, it touches so many people and so often I have seen football behavior repeated in the streets. If the AFA could make some small changes to the competition structure that reflect transparency, accountability, and responsibility then maybe society would follow? Even if it didn't there would be less violence at football stadiums and this in itself is a big win for society. It's a shame it will be too late for Marcelo Ceja's family.
Three Small steps towards Accountability
Play an annual championship of two rounds using the current schedule with a break in the middle during January. No more opening and closing championships.
Abandon relegation averages and make teams accountable for their full season performance.
Crown the full season champion with all the fanfare that a real champion deserves.