Its cold, its dark, and it hurts.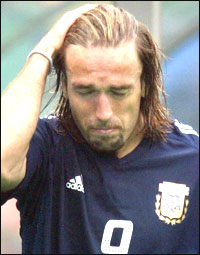 It hurts when you see kids having to do acrobatics at the traffic lights to try and earn a few pesos for their family.
It hurts when you see young and old going through rubbish bags looking for food.
It hurts when you see people wrapped up in cardboard sleeping bags on the footpath.
It hurts too that Argentina's World Cup dream is over.
This nation of 36 million wonderful passionate people deserved some relief from the pain and suffering they are living, but it wasn't to be. Now they must go back to their struggles, their daily lives, their families, and keep fighting.
Like a drug addict needing a fix to escape from a dreadful reality Argentina has been high on World Cup fever and national pride these last 2 weeks. It wanted to stay on that high as long as it could but shockingly the high is over already and reality has come crashing back.
These last 2 days have been the coldest of the year in Buenos Aires, and it hasn't been just the cold that has had people shivering. Since last weeks loss to England Argentines have been nervous about the final pool game against Sweden and the cold weather seems to reflect the shakiness many people are feeling about the game.
Argentina looked confident against Nigeria but lacked fire against England and was well beaten. There is now just one door open, if Argentina wants to progress at the World Cup they must beat Sweden.
Nerves are evident in the team as coach Marcelo Bielsa changes his carefully formulated plan by dropping star midfielder Juan Sebastian Veron, and Argentina's most capped player Diego Simeone after both turned in poor games against England. The players faces have lost that assured confidence they had just a few days ago, they look worried. The people of Buenos Aires are also worried, and talk only about how difficult Sweden will be. They desperately want a win but are not so sure they will get one.
My girlfriend and I choose a bar in central Buenos Aires to watch the game, we want to be close to the Obelisk so we can share in the traditional celebrations after the game. The "La Casona" bar is packed when we arrive at 2.30am, a few people are sleeping at the tables waiting for the game, many look very tired, you can't tell if its World Cup fever or the result of 6 months of political, social, and economic hardships. Everyone is decked out in the blue and white of Argentina, flags are draped over the tables, the mood is positive and expectant. It is exciting as everyone bangs their hands on the tables and sings.
There is so much emotion, passion, pride, and expectation.

Everyone cheers loudly when the teams walk onto the field and also when the Argentine national anthem is played. The game gets underway with Argentina straight onto attack, they create some good chances, Juan Pablo Sorin gets close with a diving header and Javier Zanetti, Pablo Aimar, and Ariel Ortega are controlling the midfield. Sweden are content to just boot the ball up field, it seems only a matter of time until the goal comes. But it doesn't and at halftime its still 0-0.
The second half starts the same way the first ended, with Argentina attacking but unable to finish off. In the 14th minute comes the pivotal moment of the game, Coach Bielsa decides to replace captain and star striker Gabriel Batistuta with Hernan Crespo, but while Crespo is waiting to go on one of the Swedes is brought down about 35m out. From the resulting freekick Anders Svensson hits a beautiful curving shot into the top right hand corner, 1-0 to Sweden. "La Casona" is in shock, no one says anything for the next 10 minutes. It is a deathly silence.
Argentina press on and on, fighting and trying to give the country something to celebrate, they throw everything they can at Sweden but can not crack the solid yellow wall. By pushing up Argentina has left themselves exposed at the back and it is sheer luck that stops Sweden from scoring again.
It seems that this luck could be the catalyst for Argentina's revival and they continue to press forward, wave after wave of attacks are turned back by the Swedes. With just 5 minutes left elusive Ariel Ortega dodges his way into the area and is fouled.
Penalty Argentina!
Ortega's spot kick is saved but Crespo follows up to make it 1 all. The crowded bar is alive again, shouting and making as much noise as possible. Argentina has been given a lifeline and maybe, just maybe they can still win it.
Then inexplicably the screen goes blank! We are left in silence and in darkness!
Only in Argentina could something as crazy as this happen.
With only 4 minutes left, and in the most vital moment of the game the picture is gone, we are left angry and dazed. Everyone is shouting and some are threatening not to pay unless the picture is returned. The manager comes and fiddles with the cable and sanity and the picture are restored. Unbelievable.
4 minutes of stoppage time are to be played, everyone hopes for a miracle.
Argentina's last desperate attempts to score the winning goal end with the referee's whistle. The whistle is blown on the game, and Argentina's dream. 36 million Argentines are jolted back to reality.
In the bar the people sit unmoved and in silence, the player's tears mingle with the tears of Argentines half a world away. There is nothing left to give, the players have given everything and so have their supporters. Everyone is completely drained.
There is nothing left to think, to feel, or to say.
After a while we head outside into the cold dark night. We walk to the Obelisk where a few supporters are gathered and are shouting and singing, they are sad and beaten but their pride is intact. Others toot and wave from their cars, we wave and shout back.
The sun is starting to come up and the blue sky is mixed with wispy pink clouds.
Argentina may have lost the game but they are far from beaten.
Vamos Argentina!