Download Winners and Losers from RWC 2011 Match Schedule PDF
With 1000 days before the first game it feels a little early to be excited about the RWC 2011 match schedule just released. FIFA who know a thing or two about World Cups after 18 successful tournaments won't be releasing their schedule for 2010 until six months before kickoff, they believe that waiting keeps qualifying interesting and avoids the possibility of games being fixed to get access to a "better" pool draw.

Rugby we know is a gentleman's game so despite the dollars at stake in these trying economic times the IRB doesn't think that for instance Canada would prefer to qualify as America 2 and avoid a pool with New Zealand and France - a stumble Vs the Eagles would place them with Italy, Ireland, and Australia. But as we all know there is no chance of a qualifier ever getting past the pool phase so maybe the IRB have rightly decided that it makes no difference what pool they are in!

Despite this appearance we do know that it's the IRB's stated goal to "deliver a highly competitive and sporting World Cup" Lets have a look at just how sporting the match schedule for 2011 is and who are the biggest winners and losers.


1. Minimum Rest Days between Pool Matches

Rugby is a contact sport and its demands physically are immense. After 80 minutes players are exhausted mentally and physically. No top level club, provincial, or international competition schedules games without a minimum of 5 rest days between games. Wales coach Warren Gatland recently expressed his concern about Wales' 5 rest days between Six Nations games Vs Scotland and England. Strangely the RWC draw does not seem share the opinion of experts worldwide and has scheduled plenty of games with the only 3 rest days for teams and many more with just 4 rest days. How can the world's top professionals be asked to risk injury and poor performance like this on the biggest stage? The answer is that most of them will at least avoid the cruel 3 day turnarounds as it's mainly the amateurs who will be making this supreme sacrifice. Only Scotland of the major nations will have to back up after 3 rest days while poor old qualifiers Africa 1, Americas 2, and Europe 1 have to play not one but two pool games after only 3 days recovery!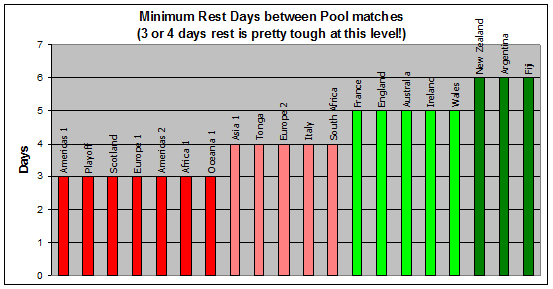 2. Number of days to play 4 pool matches.

By looking at the number of days that teams have to play their four pool matches we can see which teams have on average more time for rest and recovery between games. Sometimes a short turnaround can be compensated by a longer one later. Here the evidence is again conclusive, and damning, with minnows Americas 2, Africa 1, Oceania 1, and Europe 2 all having to play 4 games in only 16 days! If they thought getting to the Cup was tough they will be thinking again after seeing this schedule! While it's certainly good to see teams like Fiji, Tonga, and Argentina getting a better deal this time round its sad to see qualifiers whose losing performances were so highly praised in 2007 continuing to get such a raw deal.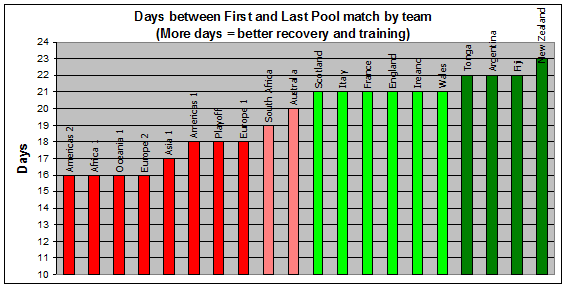 Biggest Losers

Africa 1(Namibia), Americas 2(USA)
Play 4 games in only 16 days, 2 games after 3 days rest.

Europe 1 (Georgia or Romania)
4 games in 18 days, 2 games after 3 days rest.

Oceania 1(Samoa), Europe 2 (Romania or Georgia), Playoff (Russia or Portugal), and Scotland
All have to play a game after only 3 days rest.


Biggest Winners

New Zealand
23 days to play 4 pool games, minimum of 6 days rest between games

Argentina, Fiji
22 days for 4 pool games, minimum of 6 days between games

Tonga, Wales, Ireland, England, France
5 days minimum rest and 4 games in 21 days.

It's sad to see that as in 2007 the teams that most need help are those that have the hardest draw and are asked to make the biggest effort. So much for a sporting World Cup!


Super Pools the way forward

Change is required if we are ever going to see a highly competitive and sporting World Cup as the current format does not provide enough quality competitive games for top sides or meaningful contests for emerging sides. I suggest expanding to 24 teams but recognising current playing strengths by splitting into Top 12 and Next 12 and each of these into 2 Super Pools of 6 teams. Each team would play 5 meaningful pool games against similar quality opposition with top 2 in each Super Pool qualifying for semi-finals. Finals weekend would feature Cup and Plate finals. Now that would be something to get excited about even if it was 1000 days away!
Top 12 Super Pool A – New Zealand, Ireland, England, Argentina, Fiji, Italy
Top 12 Super Pool B – South Africa, France, Australia, Wales, Scotland, Samoa
Next 12 Super Pool A – Japan, Canada, Georgia, Portugal, Uruguay, Zimbabwe
Next 12 super Pool B – Tonga, USA, Romania, Namibia, Russia, Korea